Each journaling page corresponds to one day, and each day contains a thoughtfully selected verse translated into English with relevant tafsir and reflection points. Following the tafsir are guided questions that will help you focus, reflect, and apply your learnings.

There are four parts to this journal. In the first section, we learn about our status and significance as a creation of Allah which helps us understand the nature of our relationship with the Creator giving us the mindset and perspective required to see self-love as it should be.

The second part focuses on our status and rights as Muslim women, boosting our confidence and increasing appreciation for our multifaceted femininity. Understanding our nature and Allah's intent helps us connect the importance of self-love to our existence and contribution to the life Allah meant for us.

In part three, we will explore ways in which self-care is built into our faith. We recognize our bodies, minds, and lives as a trust (an amanah) from Allah that deserves the utmost care and respect.

In the final part of our journey together, we will move from taking care of our outward body to strengthening our spiritual self. We do that by caring for, purifying, and reigniting our spiritual and mental health grounding us in faith, unlocking our inner peace, clarifying our purpose, reconnecting with Allah and flourishing as Muslim women.
Add a Ramadan Wishes Gift Box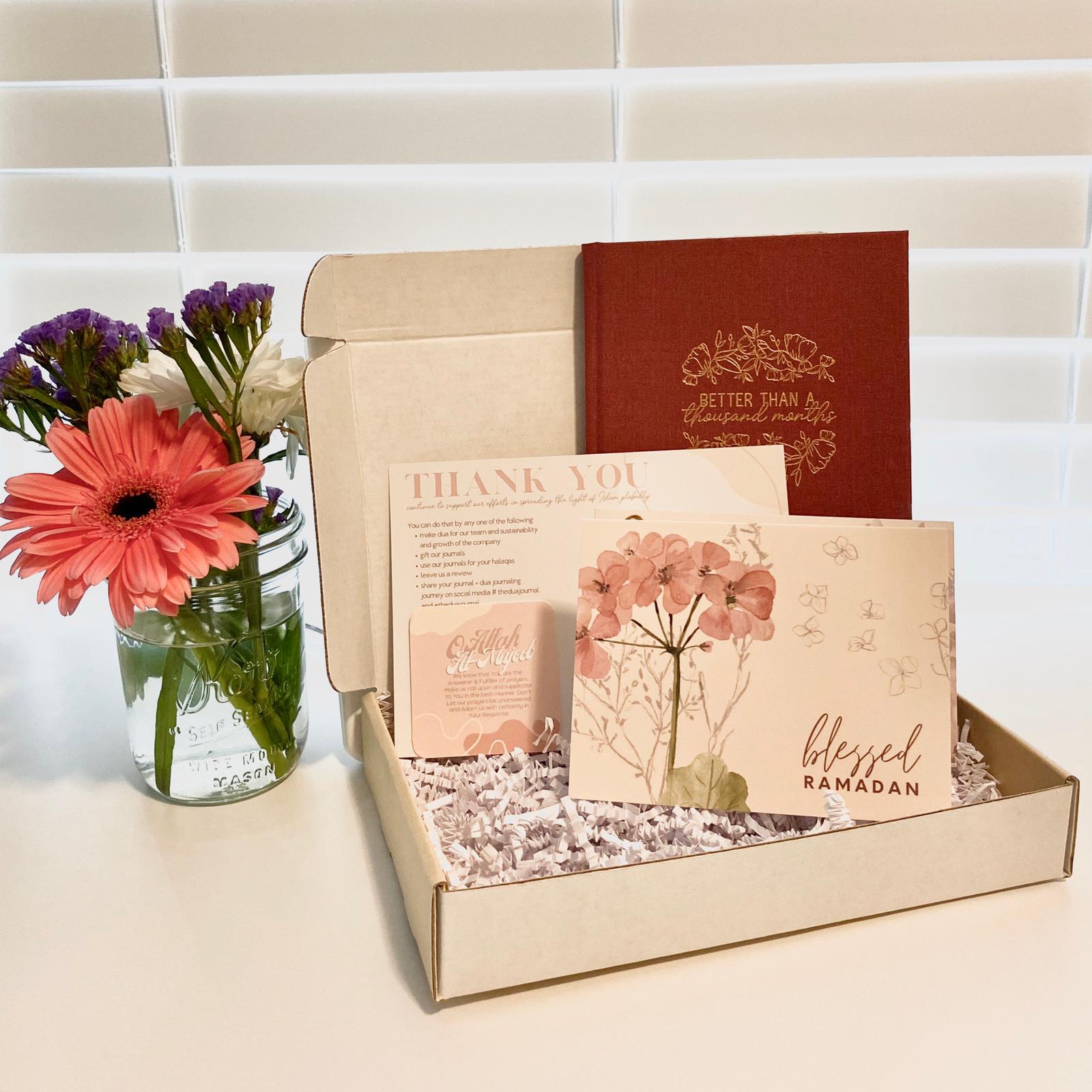 A beautiful floral design "Ramadan Mubarak" box, perfect for making your gift from The Dua Journal even more special, the cherry on top. It works for gift giving before, during, and even after the holy month!
Please note: This product includes a Ramadan Wishes Gift Box to package your order. Journals are sold separately. All other items for decorative purposes only.
OUR COMMITMENT TO QUALITY
At The Dua Journal, we stand for empowering Muslim women be their best selves and live their most fulfilled life by taking time out each day for prayer, gratitude and reflection.

It is extremely important to us to provide valuable products to the Muslim community, and we strive for the highest quality in everything we do - from the content inside of each journal to the paper, binding, and cover on the outside.

Here, community comes first, and we hope that this can be a space where we can all, as Muslim women, come to be lifted up and supported, and have our hearts nurtured as we strengthen and grow our relationship with Allah and our faith.